Fellini. Mezzo secolo di dolce vita
Year: 2009
Categories:
Books
price: 16.00 €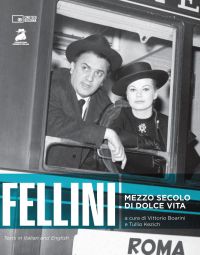 language: bilingual Italian/English edition
Descriptions
Fifty years on. Reflections and memories of a masterpiece of Italian cinema.
With essays by Sergio Zavoli, Gianfranco Mingozzi, Gianni Rondolino, Francesco Lombardi, John Francis Lane, Irene Bignardi, Virgilio Fantuzzi, Maurizio Giammusso, Gino Zucchini, Fabio Rossi, João Bénard da Costa, Jean Gili, Ellen M. Harrington and Román Gubern.