Cinico TV 1989-1992, Volume primo
price: 19.90 €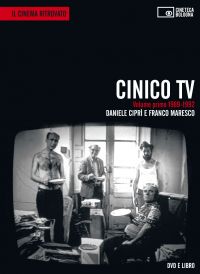 Descriptions
Released February 2011

The return of the most extreme, corrosive, gloomiest, defeatist, insulting, hilarious and entertaining series in the history of Italian television: the return of the unforgettable Cinico TV. Cineteca di Bologna publishing presents Daniele Ciprì and Franco Maresco's complete cynical production in two volumes: the first DVD, out February 2011, contains the films shot from 1989 to 1992; the second, due for release at the end of the year, those shot from 1993 to 1996.
Ciprì and Maresco's view of Italy in the 1990s, a pivotal decade of cultural transformation, was a perspective "from the depths" (Enrico Ghezzi), a long, fierce and impassive panorama, capable of making people laugh in a new and disturbing way. The series was broadcast on Rai Tre, and was subsequently reshown in fragmentary form in the following years by the Fuori Orario and Blob series. As a programme it was either loved or hated, it had the ability to elicit feelings of repulsion just as it was able to stimulate intellectual debate on: trash culture, the aesthetics of ugly, post-modernism, the post-historic world and the end of humanity. Palermo, Italy: the black and white images, recherché and filled with clouds, deeply contrast the wearied bodies and the squalor of a world inhabited by characters from the pendulum's edge of humanity, from outside the normality of everyday life. The distorted world of the cyclist Francesco Tirone, the flatulist Giuseppe Paviglianiti, the failed singer Giovanni Lo Giudice, the 'human rubbish' Carlo and Pietro Giordano, the aphasic Miranda in his white underwear, the bespectacled Giuseppe Filangeri... In this urban and human debasement, in this wasteland, in this chewed up cacophonous conversation of Sicily, humour was the primary critical act: "Not roars or guffaws of laughter: mute roars, quickly subdued and without echo, the laughter of disaffection. Minimal and hyperbolic humour." (Ghezzi).
The DVD presents a selection of the most memorable episodes, some of which were never broadcast. Furthermore, included in the extras are various statements from artists and men of culture for whom Cinico TV became must-view television. Contents of book: the booklet presents a collection of contributions by critics and writers (Enrico Ghezzi, Beniamino Placido, Alberto Farassino, Curzio Maltese, Aldo Grasso, Marcello Benfante...) who at that time commented with profound insight on the impact that the programme would have on the history and culture of Italian television. Also included is an unpublished interview with Goffredo Fofi. Daniele Ciprì and Franco Maresco, both from Palermo, are directors, screenwriters, editors and cinematographers. After earlier collaborations on programmes such as Blob, Fuori Orario and Avanzi, from 1990 onwards they produced the Cinico TV series for Rai Tre. In 1995 they directed their first feature length film for the cinema, Lo zio di Brooklyn, followed by Totò che visse due volte (1996), an exemplary case of a battle with the censor (which they won), Il ritorno di Cagliostro (2003) and Come inguaiammo il cinema italiano (2004).