Histoire(s) du cinéma
price: 19.90 €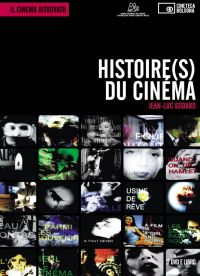 language: Original version with Italian subtitles
Descriptions
This box set presents the first Italian edition of the fundamental and certainly the most evocative work to have been made about the art of the cinema. "Introduction to a veritable history of the cinema. The only one. The right one": this is how Jean-Luc Godard, hero of the Nouvelle Vague, tireless experimenter of every form of audio-visual representation, in 1988 presented his Histoire(s) du cinéma series, which produced four volumes in the following ten years, each one divided into two parts. The series, broadcast by numerous European television channels, immediately became a cult object for cinephiles and critics alike, and was the subject of installations in various exhibitions and museums in the following years.
The two Histoire(s) du cinéma DVDs available here contain Godard's passionate and reflective history, or histories, of the cinema in its entirety. Images of the cinema from every age and every country are accompanied by an extraordinarily dense and evocative introspective monologue, recited by Godard himself. These elements intertwine with each other to create a powerful work, an essay on the cinema formed by the very instruments of which it is composed, an impassioned autobiography, an homage, a critical analysis, an epic and non-linear poem, an experiment in free association. Above all, it is the expression of an encyclopaedic spirit, motivated by true love, characterised by a sense of the ironic and imbued with a melancholy for something that was (cinema as we once knew it) and which no longer exists.
Contents of booklet
An anthology of the very best texts by French and Italian scholars who have confronted the complex challenge posed by Histoire(s): from Jean Douchet to Alberto Farassino, André Labarthe to Jacques Aumont. With a transcription of the meeting of Jean-Luc Godard with the public of Bologna, organised by Cineteca di Bologna, July 1998. Compiled by and edited by Rinaldo Censi.