Fuoco!
price: 18.00 €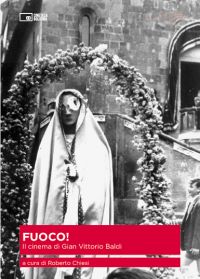 language: English subtitles
Descriptions
1968. An unemployed man opens fire on a statue of the Madonna during a procession. He barricades himself and his family into his house and a stand-off with the police ensues. He doesn't want to and can't explain why he did what he did... Fuoco!, recently restored and presented for the first time on DVD, is one of the most unique Italian films from the 1960s, and the masterpiece of its author, Gian Vittorio Baldi: writer, producer, and singular protagonist of Italian cinema due to his proud solitude and the single minded spirit of his work.
Together with the DVD, a book that documents the artistic journey of this Bolognese director in his role as both director and enlightened producer of films such as Pigpen (1969), and Notes Towards an African Orestes (1970) by Pier Paolo Pasolini and Four Nights of a Dreamer (1971) by Robert Bresson. An in-depth analysis of each of his films (including his latest feature length film, Nevrijeme – The Storm, one of the rare films to have been made about the ethnic war between Serbs and Bosnians in the 1990s) is completed by the translation of interviews he gave to "Cahiers du cinéma" in the 1960s, a very recent unpublished interview, the screenplays of his principal films (La casa delle vedove, 1960; Luciano, 1962; Fuoco!, 1968; Anni duri, 1977; The Storm, 1999), as well as previously unpublished correspondence with Pier Paolo Pasolini, Robert Bresson, Glauber Rocha, Joris Ivens, Ennio Flaiano, Riccardo Bacchelli and Jean-Luc Godard. The book also includes a complete detailed filmography and bibliography.