Ella Maillart - Double Journey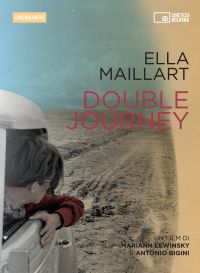 Descrizione
Voce narrante di Irène Jacob

1939. L'Europa sprofonda nella guerra. Ella Maillart, fotografa e viaggiatrice svizzera, parte alla volta dell'Afghanistan e dell'India. Sarà un viaggio leggendario d'esplorazione e ricerca spirituale: Maillart filma, scrive, scatta fotografie. Recuperati dopo un lungo lavoro di ricerca e restauro, questi materiali rarissimi danno vita a Ella Maillart - Double Journey: un film che schiude ai nostri occhi il mistero di terre oggi conosciute come teatri di guerra, viste dallo sguardo limpido, raccontate dalla voce sicura di un'eroina avventurosa del Novecento.
1939. L'Europe s'enfonce dans la guerre. Ella Maillart, voyageuse et photographe suisse, prend la route de l'Afghanistan et l'Inde. Son voyage deviendra légendaire. Elle filme, écrit, photographie. Après un long travail de restauration, ces documents ont donné forme à Ella Maillart - Double Journey, un film qui fait entrevoir des terres que nous connaissons aujourd'hui comme théâtre de guerre, saisies par le regard limpide d'une héroïque aventurière du 20ème siècle.
1939. Europa versinkt im Krieg. Ella Maillart, Schweizer Fotografin und grosse Reisende, ist unterwegs nach Afghanistan und Indien auf einer inneren Suche und Fernreise, die zur Legende wurde. Ella Maillart - Double Journey basiert auf ihren neu restaurierten Filmen und ihren Fotos und Briefen. Gegenden, welche heute Kriegsschauplätze sind, und deren Menschen begegnen uns im lebendigen Blick einer aussergewöhnlichen Heldin des 20. Jahrhunderts.
1939. Europe is engulfed by war. Swiss photographer and explorer Ella Maillart travels to Afghanistan and India on a legendary journey of exploration and spiritual quest, writing, shooting film footage and taking photographs. Restored further to years of research, these extremely rare documents are the basis of Ella Maillart - Double Journey. The film reveals regions we know today as war zones, seen and described through the clear gaze and determined voice of an adventurous heroine of the 20th century.
Extra / Bonus: Ella Maillart. Jean Grémillon (1926). Nomades afghans. Ella Maillart live (1992).
Ella Maillart - Double Journey. Testo letto da Alina Marazzi. Text performed by Kate McIntosh.
Lingue: Français / Italiano / English
Sottotitoli: Italiano / Deutsch / English
Booklet: Italiano / Français / Deutsch / English