Italianamerican
prezzo: 16.00 €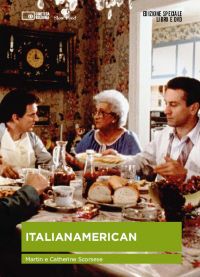 lingua: Versione originale con sottotitoli in italiano
Descrizione
Per la prima volta in un'unica edizione-cofanetto, Italianamerican (1974), forse il più celebre film di famiglia della storia del cinema, e il libro di cucina della famiglia Scorsese, curato da mamma Catherine. "Sugo ben concentrato di abitudini, album di identità perse e ritrovate, ricordi familiari, frammenti di antropologia culturale" (Irene Bignardi, Il Venerdì di Repubblica, 3 settembre 2010).
Da leggere mescolando un sontuoso ragù di agnello, o affogando il pollo nel limone.
Description
For the first time ever in a single box set, Italianamerican (1974), perhaps the most well-known film about family and the history of cinema, and the Scorsese family cookbook, edited by Martin Scorsese's mother Catherine. "A concentrated sauce of customs, an album of identities lost and rediscovered, family memories, fragments of cultural anthropology" (Irene Bignardi, "Il Venerdì", La Repubblica, September 3, 2010).
Read while stirring a lamb ragù or marinating chicken with lemon.