Rupi del vino
price: 14.90 €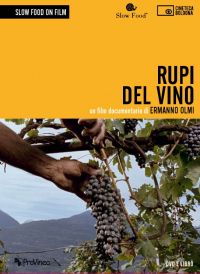 language: Subtitles in English
Descriptions
"There are five reasons for drinking: a friend's arrival; the excellence of the wine; the thirst of the present and the thirst of the future; and whatever other reason comes to mind" (Ermanno Olmi)
Following Terra Madre, a master of Italian cinema returns to take a look at the landscape, the land, the practices and the poetry of one of man's oldest occupations. Over the course of an hour of flowing images, interviews and stories Rupi del vino, Ermanno Olmi's most recent film, discovers the vineyards of Valtellina: from the construction of the stone wall hillside terracing - an example of a wise, primitive architecture that harnesses the land without violating it, to the amount of time preparing the vines, the maturation of the grapes, their harvest and the eventual production of the highly praised wines. The images are accompanied by two remarkable 'voices': Mario Soldati, author of the superb travel memoir 'L'avventura in Valtellina', and Pietro Ligari, eighteenth century painter and architect, who considered agriculture to be "superior to every other art form, without exception"... A clear humanistic documentary, a story and an act of love: with Rupi del vino Olmi pays homage to this 'heroic viticulture', a living example of a positive relationship with one's own environment, of agricultural know-how, productive capacity, and of a true wine culture and the harmonious valorisation of this natural heritage. The vineyards of Valtellina offer such a rich example of this culture that they are now considered a candidate for UNESCO World Heritage Site listing.
Bonus features
Five Good Reasons, Maurizio Zaccaro chats with Ermanno Olmi
Bread, Oil and... Wine, Ermanno Olmi introduces Rupi del vino in Piazza Maggiore, Bologna
Contents of book
Ermanno Olmi on viticulture of the past and the present, Goffredo Fofi on the relationship between Olmi and Soldati, Antonio Cherchi on wine, Valtellina and agricultural wisdom, Marco Vitale on the architecture of the mountain, as well as Pietro Ligari's 'Ragionamenti di agricoltura' (Agricultural Reasoning) from 1752 on the seasonal calendar of viticulture.