A Letter to Elia - Elia Kazan. Appunti di regia
prezzo: 25.00 €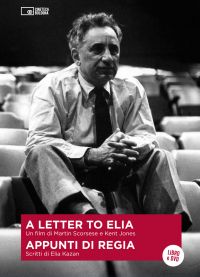 Descrizione
un film di Martin Scorsese
un libro di Elia Kazan
Elia Kazan è stato uno dei grandi protagonisti del teatro e del cinema americano: il fondatore dell'Actors Studio, il regista che scoprì Marlon Brando, l'uomo che rivoluzionò la scena di Broadway con leggendari allestimenti da Tennessee Williams e Arthur Miller, l'auteur di Fronte del porto, di Un tram che si chiama desiderio, di La valle dell'Eden, di Splendore nell'erba, l'ex comunista che 'fece dei nomi' alla Commissione per le attività antiamericane e non fu mai perdonato da Hollywood, né forse si perdonò. A Letter to Elia, il più recente film di Scorsese, uscito nel 2010 e realizzato insieme a Kent Jones nel corso di alcuni anni, è una lettera intima e appassionata che prende forma attraverso il commento a sequenze cruciali o a momenti segreti del cinema di Kazan, rare immagini di repertorio e una lunga intervista. Elia Kazan. Appunti di regia è un sinuoso e appassionante intreccio di appunti di taccuino, pagine di diario, riflessioni, lettere e stralci d'un mai completato saggio 'sulla regia': un libro che scopre in Elia Kazan, regista, una splendida, whitmanesca, non riconciliata voce di scrittore.
Description
a film by Martin Scorsese
a book by Elia Kazan
Elia Kazan was one of the main protagonists of American theater and film: the founder of the Actors Studio, the director who discovered Marlon Brando, the man who revolutionized Broadway with legendary productions of plays by Tennessee Williams and Arthur Miller, the director of On the Waterfront, A Streetcar Named Desire, East of Eden, Splendor in the Grass, an ex-communist who testified as a "friendly witness" before the House Committee on Un-American Activities, which Hollywood never forgave him for and perhaps neither did he. A Letter to Elia is a 2010 documentary by Martin Scorsese and Kent Jones that includes commentary on crucial sequences and hidden moments of Kazan's films, rare footage and a comprehensive interview. Elia Kazan: Appunti di regia is a collection of notes, diary entries, reflections, letters and excerpts of an unfinished essay "on directing".