Appunti per un'Orestiade Africana
prezzo: 16.90 €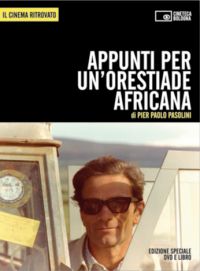 Descrizione
un film di Pier Paolo Pasolini Edizione restaurata
Dvd (73' + extra; italiano e inglese con sottotitoli in inglese, francese e italiano per non udenti) e libro (48 pagine)
Edizioni Cineteca di Bologna, Bologna 2008
Con Appunti per un'Orestiade africana la Cineteca di Bologna inaugura la nuova collana editoriale 'Il cinema ritrovato. Dvd e libro che propone titoli inediti o rari, sottratti all'oblio culturale o restituiti a nuova vita da recenti restauri. Questo film di Pasolini, ultimato nel 1973 e rimasto pressoché inedito per oltre due anni, fino ai giorni successivi alla morte dell'autore, è l'unico del poeta-regista a essere stato rifiutato sia dalla televisione pubblica, sia dalla distribuzione cinematografica, non perché ritenuto 'scandaloso', ma perché semplicemente considerato 'difficile', quindi non facilmente commerciabile. La Cineteca di Bologna lo ripropone in un nuova versione restaurata presso il suo laboratorio L'Immagine ritrovata grazie ai materiali messi a disposizione dal produttore Gian Vittorio Baldi. Fra gli extra, interviste a Dacia Maraini, Massimo Fusillo e allo stesso Baldi. Il booklet, a cura di Roberto Chiesi, comprende testi di Pier Paolo Pasolini, un'introduzione di Giuseppe Bertolucci, critiche e recensioni d'epoca.
Description
Restored version of a film by Pier Paolo Pasolini
DVD (73' + extras; Italian and English, with English, French and Italian subtitles) + book (48 pages)
Edizioni Cineteca di Bologna, Bologna 2008
With Appunti per un'Orestiade africana the Bologna Cineteca launches the new publication series Il Cinema Ritrovato. DVDs and books of never-seen-before or rare titles that have been recently restored. Pasolini completed the film in 1973, but it was not screened for over two years. It was the only work by the writer-director that was not accepted for public television or distribution not because it was "scandalous" but because deemed "difficult" and not easily marketable. The Bologna Cineteca's new version was restored at its lab L'Immagine ritrovata using materials provided by producer Gian Vittorio Baldi. Extra features include interviews with Dacia Maraini, Massimo Fusillo and Baldi. The booklet edited by Roberto Chiesi comprises writing by Pier Paolo Pasolini, an introduction by Giuseppe Bertolucci, criticism and reviews from the period.