Dive! Lyda Borelli • Francesca Bertini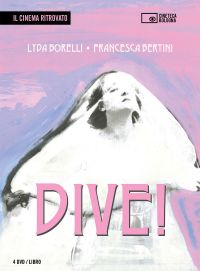 lingua: italiano / inglese
Descrizione
4 Dvd e un booklet (185′; 72 pp.)
LYDA BORELLI
Ma l'amor mio non muore! (1913, 80') di Mario Caserini
Rapsodia satanica (1915-1917, 45') di Nino Oxilia

FRANCESCA BERTINI
Sangue bleu (1914, 65') di Nino Oxilia
Assunta Spina (1915, 72') di Gustavo Serena e Francesca Bertini

Versioni restaurate con accompagnamenti musicali originali
Restored copies with original music accompaniment

Quattro capolavori del cinema muto italiano per scoprire il fascino del diva-film. Quattro film abitati da formidabili donne e attrici, che un secolo fa divennero protagoniste assolute della cultura dell'immagine.

Four masterpieces of Italian silent cinema for rediscovering the glamour of the diva-film.
Four films with formidable women and actresses who dominated the visual culture of a century ago.

Ma l'amor mio non muore!, primo film di Lyda Borelli e origine del diva-film: un tuffo nell'immaginario, nella cultura, nella moda liberty italiana. Sangue bleu, Francesca Bertini raggiunge lo status di diva in un sontuoso melodramma coniugale e materno. Assunta Spina, 'il' film della Bertini, anche regista: il suo successo più grande, il suo ruolo più appassionato, il capostipite del realismo cinematografico. Ancora Borelli nel film che segna la sua apoteosi e il vertice del muto italiano: Rapsodia satanica, dramma erotico e fantastico, opera unica per la bellezza dei suoi colori e della partitura musicale composta da Pietro Mascagni.
Ma l'amor mio non muore!, Lyda Borelli's first film and the birth of the diva-film, plunging us into the imagination, culture and fashion of Italian Art Nouveau. Sangue bleu, the most lauded Francesca Bertini in a luxurious marital and maternal melodrama. Assunta Spina, 'the' film of Bertini's career, which she also directed: her biggest success, the earliest example of realism in Italian cinema. Borelli once again, at the height of Italian silent film: Rapsodia satanica, 1915-1917, an erotic and fantastic drama, unique for the beauty of its colours and of Pietro Mascagni's extraordinary musical score.

Con saggi di / Essays by Mariann Lewinsky, Ivo Blom, Michele Canosa, Gerardo Guccini, Giovanni Lasi, Eric de Kuyper, Timothy Brock e Gian Luca Farinelli