Cento anni fa. Attrici comiche e suffragette 1910-1914 / Comic Actresses and Suffragettes 1910-1914
prezzo: 19.90 €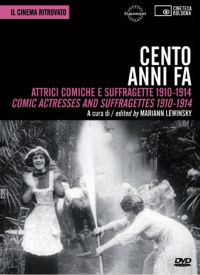 lingua: Sottotitoli e booklet italiano/inglese
Descrizione
Sedici film rari e divertenti testimoniano che la comicità è donna nella prima stagione aurea del cinema internazionale.
Le follie domestiche e gli audaci ménage di Cunégonde, Mistinguett, Lea e Gigetta invadono gli schermi, mentre nel mondo si affermano i movimenti per i diritti politici delle donne.
Description
Sixteen rare funny films show that comedy is a woman's genre during the first golden era of international film.
The domestic madness and wild households of Cunégonde, Mistinguett, Lea and Gigetta invaded screens while women's rights movements were budding around the world.